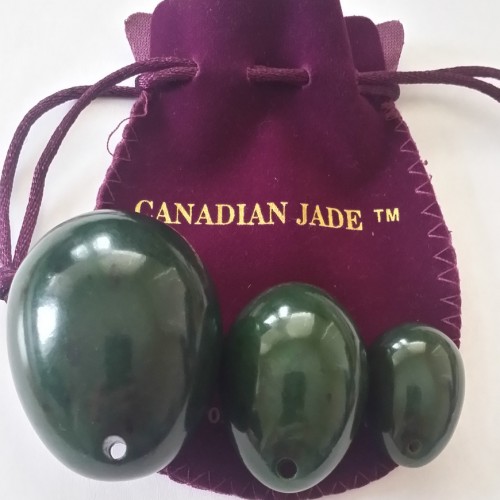 BUY NOW
This 3-piece jade egg set, made of the highest quality 100% pure Canadian Nephrite jade, is a luxurious, exquisite, one-of-a-kind set that is both functional and beautiful sculpture. It can last a lifetime, and is a great gift for you or your partner. Sizes are 3.5cm, 4cm and 5cm in length.
The different size egg are ideal for women who'd like to explore using yoni eggs in different ways for pelvic floor exercises, healing and increased pleasure during intimacy. The eggs are sideways drilled. Non-flavoured dental string, user guidelines and soft pouches are included with your order.
In many cultures, particularly Chinese, Mayan and Maori cultures, jade is considered the "Stone of Heaven" – a wonderful and powerful healing stone.